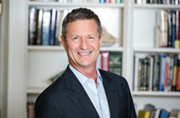 Described by Newsweek and Business 2.0 as the "Agent to the Corporate Stars", Neal Lenarsky has also received attention from National Public Radio and CIO magazine as strategic manager, agent, and advocate to corporate executives from companies such as AOL Time Warner, Disney, Sony, Universal, Fox Broadcasting, Clear Channel Communications and The Gap. He has spoken at the Wharton Entrepreneurial Conference, Northwestern's Kellogg Marketing Conference and Harvard Alumni Roundtables, was featured on Lifetime Television and has provided support for search firms such as Heidrick & Struggles, Korn/Ferry International and Christian & Timbers.

---
Neal began his career at RJ Reynolds' KFC division, where he developed and wrote the Store Administration Manual for this $4 Billion, 4,000 store chain. After the PepsiCo acquisition in 1986, Neal moved hundreds of executives around the country throughout all divisions of the company and developed the notion of "Human Asset Management": the idea that careers, like other capital, are to be managed with the same level of thought and business savvy that companies focus on other assets.
In 1990, Neal was asked by the Walt Disney Company to move to Los Angeles and build an internal search function which supported Disney's film, consumer products, and corporate divisions. He managed over 400 executive searches and built relationships throughout the Fortune 500 which he has grown over the years to a working rolodex of 7,500 people.
Neal's next significant project was to assist the Broadway stores during its 1995 transition, and was responsible for the impact on 350 executives. During the merger with Federated Department Stores, he successfully placed employees at The Gap, The Good Guys, Guess?, Disney, Warner Brothers, Universal, FedCo, Williams Sonoma, Authentic Fitness, Heinz, Mattel, Sony, Paramount and many other employers in California.
Neal rounded out his executive talent management experience by supporting the Marciano family (Paul, Armand and Maurice) when they took Guess? through the IPO in 1996. He built the entire stock option compensation system, the friends and family program and the benefits and compensation system for the company. Under Neal's human capital leadership, Guess? attracted President level executives from Ann Taylor, Warnaco, Polo Ralph Lauren, Nautica and the GAP.
Neal incorporated STI Management in 1996 when he realized the need and pioneered an agency to represent executive talent and attract deal flow. In this role, Neal finds the most ambitious and talented executives in the media, entertainment, technology, fashion and consumer foods industries and creates opportunities for them the way other agents do for athletes and movie stars.
With offices in Los Angeles, New York and San Francisco, STI has been a catalyst in the development of 12 companies with millions in revenue.
Neal received a Bachelor of Arts in both Philosophy and Psychology from the State University of New York at New Paltz and a Master of Arts in Philosophy from Indiana University in Bloomington, Indiana. He presently lives in Los Angeles.