When Neal Lenarsky couldn't find a career that fit the way he wanted to work, he invented one for himself and built a business around it. Using Hollywood as a model, the former human-resources executive ditched the corporate arena to become an agent for executives.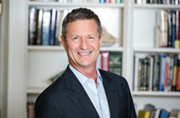 Name: Neal Lenarsky
Age: 51
First Career: Human resources executive
Second Act Career: Executive agent

Mr. Lenarsky worked his way up the
ranks in human resources at several
consumer and fashion retail companies
until he wound up at Guess Jeans,
where he was part of the executive
team that took the company public in
the mid-1990s. But the higher he
climbed up the corporate ranks, the
further he found himself from the
aspects of human resources that he

most liked.
"I was good at building systems for the company and putting processes
in place but I was not happy 75% of the time," he recalls. "You can be really
skilled at stuff and still hate it."

He liked "moving the chess pieces" and helping people figure out how to
move ahead in a company by understanding what they're passionate about
and making career choices that keep them close to their passions.

Mr. Lenarsky says he found that "the corporate agenda" often got in the
way of his being able to advise people the way he would have liked to.

"You know someone is going to get laid off in three months so you can't tell
them how you think they can get ahead," he says.

He began thinking of a career change and considered executive recruiting,
where he had a lot of contacts, or career coaching. But since recruiters are
always -- and coaches are often -- paid by companies, he thought he would
have the same conflicts he faced in his human-resources role. "

But then another advisory model came to mind: the Hollywood talent agent.
It works like this: You pay someone a retainer and give them a percentage
of the deals that they bring you. Mr. Lenarsky had a notion of representing business people in the same way. He would help them to figure out what they
most wanted to do and then make the introductions what would help them get
that next, bigger job or career-clinching client -- or, in other cases, help them develop an entrepreneurial idea.


---
MAKING A CHANGE

Neal Lenarsky has the following advice for those wanting to make a change:

Give yourself time to succeed. "If you go into an entrepreneurial opportunity thinking you're going to give it three or six months, you aren't giving yourself a fair chance. You need time. I'd give it three years and if you don't have the money to do that, wait a little while until you do."

Don't give away the store. "Don't give away too much for free. A lot of people do that because they think it will get a person to become a client. Instead the client becomes accustomed to getting stuff for free and thinks, 'why should I pay?' "

Make sure your first deals succeed. "Start slow. At first you want to spend all your time with one or two clients and make sure things really work well with them, even if they're tiny," because that establishes you and generates the word-of-mouth that will get you other clients.
---

Before he left Guess in 1997, he asked middle and high-level people what they thought of the idea and whether they'd be a part of it. And he put his thoughts down on paper in the form of an informal business plan.

"Someone asked me, 'In starting this new business how will you be different? What will you be and what will you not be?' " he says. Writing his thoughts down helped clarify those things.

"Neal is very independent-minded. He's one of those guys who has a lot of creativity in him that he never got to express in his corporate job," says Peter Buonocore, who worked with him at Guess. "He found a situation where he could dial into that creativity and it seemed like a logical progression for him."

Even so, he was trying to take an existing concept and alter it -- and that had its challenges. "There were a lot of deals and transactions that I could have had early on that passed by simply because I didn't have the business model or an ironclad agreement figured out sooner," says Mr. Lenarsky. Eventually he found an attorney who worked with Hollywood agents who wrote up an agreement that worked.

Mr. Lenarsky had to spend a lot of time explaining his concept to the people he wanted to bring on as clients, something he still has to do to a lesser extent today. He says he typically spends two to three hours with a potential client, asking them about themselves and explaining what he can do for them. And Mr. Lenarsky usually asks to meet their spouse or partner, if they have one.

He found his first client in his own backyard. Another executive was leaving Guess at the time and agreed to hire him. Mr. Lenarsky helped him develop a business he wanted to launch. That gave him a track record and word-of-mouth that helped him lock in more clients.

Mr. Lenarsky was fortunate, he says, because he started off with "a good Rolodex," full of recruiters and executives in the industries where he wanted to focus — fashion and retail, entertainment and media — but he quickly found that he was most drawn to people like him, who eventually wanted to get out of the corporate world and do their own thing.

Luckily, he knew people who had been CFOs or treasurers at his past employers, and one who had left to go into investment banking. Mr. Lenarsky got an introduction to the world of private equity and venture capital through those contacts.

Still, renewing and growing his Rolodex is an ongoing part of his job. He estimates that he spends 75% of his time working with clients and 25% networking.